... I was feeling nostalgic for a place,
my fictional recreation of Marudi, that had never really existed.

In later years I would find myself regularly revisiting the world of The Diamond of Jeru and remembering how much I had enjoyed "living there" during the time I had worked on the novella and then writing and producing the movie. In March or April of 2004 I took an extended vacation back to Australia and New Zealand. One afternoon I walked around downtown Brisbane and stopped off at the old parliament house, the building we had used for the Marudi District Officer's Residence. Since there were no events planned, it was locked up, seeming almost forgotten. I sat on the back porch until the sun went down feeling very strange, disconnected from some reality or unreality; it had been a fictional place in my fictional world ... I was feeling nostalgic for a place, my fictional recreation of Marudi, that had never really existed.


Click HERE to visit the Son Of A Wanted Man web site.
After finishing Son of a Wanted Man, I had been asked by an executive at Random House Audio if I had any plans for another dramatized audio. I was happily surprised because I hadn't been sure that they'd want another. Thinking about it I decided I didn't want to do another western but I did want to do something that had a very distinct sound and was definitely existed in it's own time and place.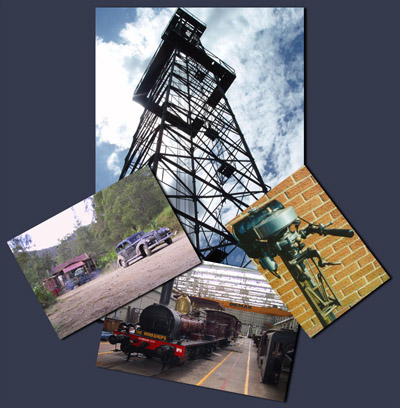 Several possible stories were considered but rejected because the time needed to get a script together was too great or they didn't have the right mixture of characters ... I especially wanted to have a strong female lead. Since I already had written a movie script to The Diamond of Jeru, I figured it could become the foundation for an audioplay as easily as had Son of a Wanted Man. Sarawak of the 1950s would surely have it own wonderfully exotic palette of sounds, the sense of the time period in the dialogue would be as distinct as a western, and the sound of mid twentieth century technology seems to be rapidly becoming as out of date as that of the nineteenth! In many ways it was perfect.
While the film script for The Diamond of Jeru had to run 89 minutes the finished audio was required to run twice as long. That difference would allow a lot more room to expand the story so I could play with several themes and aspects of the plot that, just like the film contained many elements not in the novella, added breadth and depth to the story. Several aspects of the movie script that had to be cut to maintain it's running time were able to make their way back into the audio and it was amazing how several of the characters, particularly Raj, Inghai, and Jeru, came to life in a completely new way. The audioplay ended up being just as much an adaptation of the film script as the film script had been an adaptation of the novella and the novella had been an adaptation of the original short story ... each a similar but completely separate beast.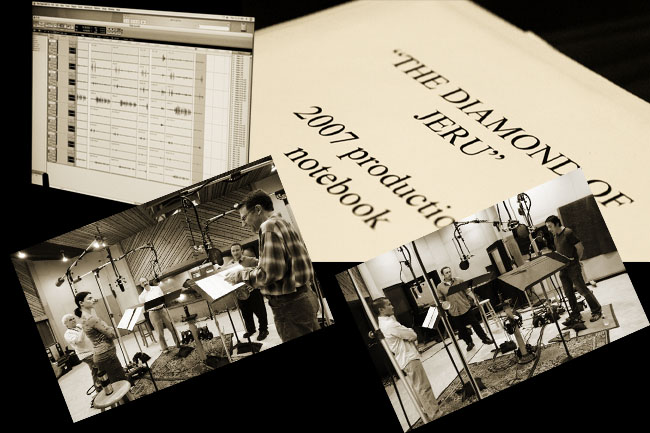 Production of The Diamond of Jeru as an audioplay commenced in October of 2007. We engaged in a casting process of fairly heroic proportions, with nearly 2500 submissions. Out of those we selected nearly 400 to come in and audition and spent 6 weeks often 6 days a week seeing them all. It was an experience so exhausting it made the recording session seem like a holiday. The outcome was a great cast that included many nationalities, British, Australian, Malay, Chinese, Korean, and Indian besides the several American leads. All were wonderful actors.
The next job, the one that will take up several years because we cannot work on this show full time, is to cut the voices, sound effects, narration, and music together and then mix the show.
It is guaranteed to be an adventure ...